When you create a PayBee account, you will be asked to enter some information related to your Organization. Only registered non-profit organizations with an EIN number can create an account with PayBee.
Keep the following information handy:
Access to an organization's email address.

Organization's bank account number and routing number.

Organization tax identification number, name, and address.

Authorized representative info which includes name, birthday, and last 4 of SSN.
The authorized representative is typically the treasurer of the organization or someone who is aware of the transactions processed.
1.

Go to

www.paybee.io/signup.html

add your org name, email, and set a password. Review our terms of service and hit create account.
2. Go to your mailbox and verify the PayBee email by tapping on the button. Check spam folder as well if you don't see it within a few seconds.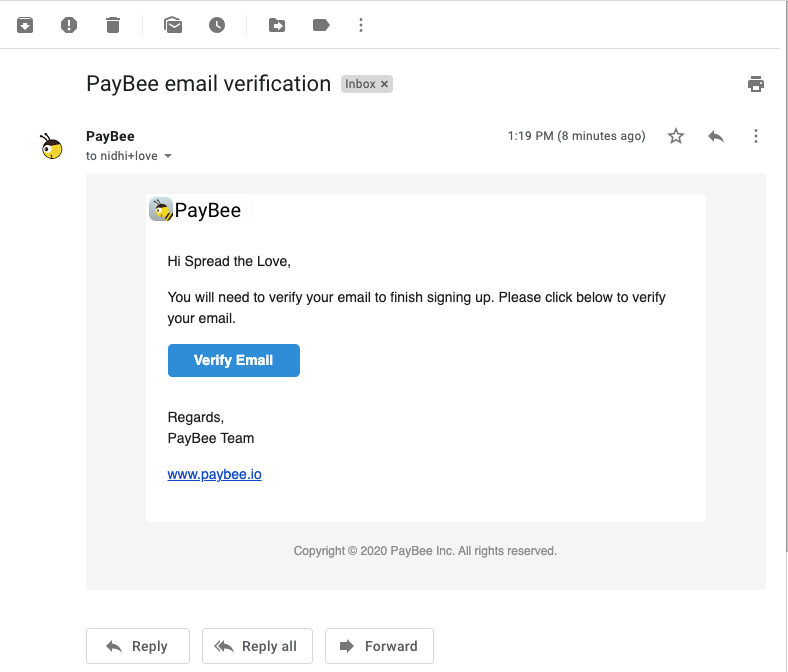 3. Then in the next step of the signup flow, select "I have verified my email". You can also select "Resend verification email", or "Change email address" if needed.
4. Enter other supporting info.
The unique handle is a shortcode that will be used in all your URLs and it helps your donors recognize your organization. So if your organization is called Spread the Love, your handle could be stl, love, or spreadthelove.
5. Enter your bank account information. This is where the proceeds from your transactions will be deposited after they finish processing.
Fill in your EIN, and other relevant information.
7. Choose membership based on your needs.
If you have any questions about what each membership tier includes please check out our
pricing page
.
8. That's it, you're done, a member of the PayBee team will reach out to you with the next steps!
If you need to make any updates on an already created PayBee account (like banking information or Tax ID), reach out to us at [email protected]